About Us
Twinwood (U.S.), Inc. was established in 1980 as a private company located in Simonton, Texas. Due to its dedication to excellence and uncompromising standards, Twinwood has been an agricultural leader in its 30 plus years. In keeping current and knowledgeable of agricultural research and innovations, Twinwood has been able to provide the very best products to its customers 12 months out of the year. Their products are, yet not limited to, sod and trees sold to the commercial and private sectors, and hay to farmers.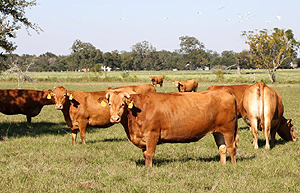 Twinwood has expanded in the agricultural world to include ranching and equestrian services. One of these expansions occurred in 2009 when Twinwood Cattle Company, Inc. was formed, which is also located in Simonton, Texas. Twinwood Cattle Company, Inc., along with another Texas owned company named HeartBrand Beef, is excited to be participants in the international venture of a rare Japanese breed of cattle called, Akaushi.

This closely monitored rare breed of cattle has only recently been made available to the United States market. This is due to Japan's strict trade regulations. Twinwood Cattle Company, Inc. is now part of this exciting new market that provides a beef product that is genetically FREE of biogenetic enhancements. Because of its fatty-acid composition, Akaushi beef is different from most traditional domestic beef. The meat from the Akaushi or "red" breed is characterized by its extremely high amount of marbling, or its positive ratio of containing the good type of fat for human consumption. The meat is low in saturated fat, high in monounsaturated fat and conjugated or oleic acid. This unique beef has a taste that is described as being from "heaven". It's been said that when served, the beef is so tender and succulent; a steak knife is not needed.

The most notable and respected steakhouses across the country are growing in great demand of this outstanding commodity. Twinwood Cattle Company, Inc. is grateful to have the opportunity to be able to provide the suppliers with this unique product that is sure to satisfy those in search of excellence.

Contact Twinwood Cattle Company, Inc. today to find out more.